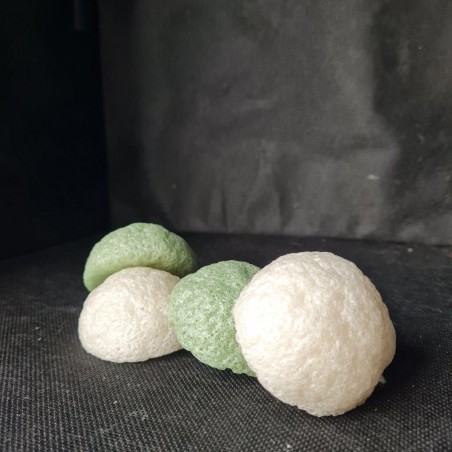  
Konjac sponges
Tax included
Delivery within 7-12 days. Free delivery in Belgium for orders over 50 Euros. Free delivery in Jette.
 Konjac, 100% natural and biodegradable vegetable sponge.

Cleanses deeply.

For a soft and luminous skin.

Ideal for face care.

Currently available in 2 versions: natural and aloe vera

 


DESCRIPTION AND CHARACTERISTICS

100% vegetable sponge, without colouring agents or additives (certified) made from the fibre of the Konjac (amorphophalus konjac), a slightly alkaline Asian plant. Consumed in Asia, mainly in Japan, for centuries as a vegetable, the Konjac sponge is made from the root of the plant which is mixed with water and undergoes temperature changes to solidify it.

The fibres of the Konjac sponge allow for gentle cleansing and exfoliation of even the most fragile skin, such as that of the face and babies. In addition, the massage performed with the sponge is a real asset to promote blood circulation.
 
Why adopt it?

    100% natural fibres
    Suitable for all skin types
    Gentle but thorough cleansing and exfoliation
    Respects the skin's PH level
    Promotes microcirculation
    Ideal for skin with imperfections
    Soft and luminous skin
    Cellular regeneration
    100% biodegradable


 
THE VARIATIONS
Sensitive skin

    Aloe Vera: Konjac sponge enriched with Aloe Vera known for its softening, moisturizing and regenerating properties
    Lavender: Available in a version enriched with Lavender known for its soothing, relaxing and antiseptic effect (not available at the moment)

 
Oily and/or blemished skin

    Lemon: version enriched with Lemon with astringent properties and rich in vitamin C. Particularly effective in tightening the skin's pores, it is ideal for oily skin (not available at the moment)
    Bamboo Charcoal: konjac sponge enriched with bamboo charcoal known for its anti-oxidant and mineral-rich properties that effectively fight excess sebum, blackheads and acne.


 
DIMENSIONS

Diameter: Classic Nature - Aloe Vera - Lavender - Lemon - Bamboo Charcoal - Red Clay, Green Tea: 7 to 8 cm

Available for the body in XL version. Size : Nature XL : 12 x 8 x 4 cm

 
USE

First use: leave the Konjac sponge in warm water for 3 to 5 minutes. Between uses, rehydrate by simply running the sponge under warm water.

Once the Konjac sponge has become soft, gently massage your face and body in a circular motion with or without a cleanser.

After each use: rinse the Konjac sponge thoroughly and wring it out gently. Then store it in a dry place.
The life span of the sponge is several months; when the sponge starts to decompose (significant crumbling), change it.

 
RECOMMENDATIONS

Do not twist the Konjac sponge

Hang it up between uses so that it can dry in the open air.

To purify your sponge of any bacteria, boil it for 10 minutes in water, adding Tea Tree essential oil (on the sponge) if you wish.

 


16 other products in the same category:
No customer reviews for the moment.
Customers who bought this product also bought: