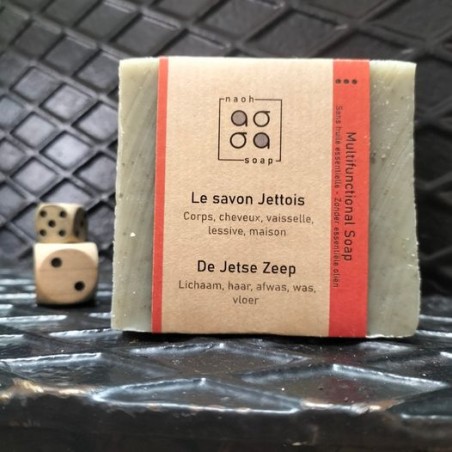  
Jetse Multifunctionnal Soap
Tax included
Delivery within 7-12 days. Free delivery in Belgium for orders over 50 Euros. Free delivery in Jette.
Multi-purpose soap specially developed to make a "unique soap for the home". Its name "Le savon Jettois" is a nod to its place of production and to the naoh-soap philosophy of working locally as much as possible.

In particular, it is perfect to accompany camps and WE scouts for various uses, but also hikers and campers. The aim was to find a unique, multi-purpose formula, offering a credible alternative to the many industrial soaps 'needed' for each specific use.

It contains green clay for its degreasing properties and to care for oily and acne-prone skin. Free of essential oils, so it can be used by everyone.


Cold saponified. 5% greaseproof.
Hand cut. Weight : 90 g

BIODEGRADABLE !






Ingredients:  Olive oil, coconut oil, shea butter, castor oil and green clay.



For which uses?

- For the body: proceed as with a "normal" hard soap 😉

- For hair: either lather directly onto the hair, or in the hands or in a soap bag, then apply the lather to the hair and rinse (sometimes requires time to adapt depending on hair type)

- For dishes and surfaces: rub the soap onto a damp sponge, clean and then rinse while singing

- For clothes: rub the soap into the stains before washing by hand or machine

- For floors: grate and dissolve a few soap shavings in hot water, then wash as usual



Tips for use
After use, put your soap in a dry place on a soap dish. This will extend its life.
Used as a shampoo, it can be completed by rinsing with a mixture of 10% cider vinegar and 90% water, in order to have shiny hair!
Olive oil is emollient, rich in vitamin E and polyphenols. It protects and nourishes the skin.

Coconut oil is very nourishing. Thanks to this, it considerably reduces the dehydration of the skin. Soothing and gentle, it calms skin prone to redness. It contains lauric acid as well as vitamins A and E with antioxidant properties.

Shea butter is very rich in unsaponifiables and vitamins. It protects, softens and restructures damaged skin. It moisturises and nourishes the skin in depth.

Castor oil makes the skin supple, giving it elasticity and softness. It also provides softness and a creamy lather.

Green clay is detoxifying, remineralising and toning. It purifies and cleanses the skin and takes care of oily and acne-prone skin.



Data sheet
Skin type

Normal and mixed
Oily
Sensitive

With essential oils

No

Hair type

Normal hair
Oily hair

Line

The refined

Scrub soap

No
13 other products in the same category:
No customer reviews for the moment.
Customers who bought this product also bought: