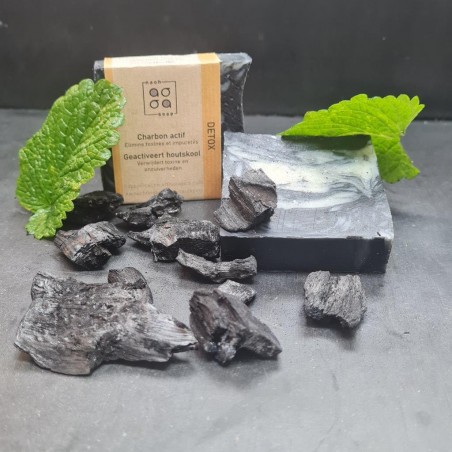  
Detoxifying
Tax included
Delivery within 7-12 days. Free delivery in Belgium for orders over 50 Euros. Free delivery in Jette.
 

Ideal for sensitive, problematic and teenage skin.

A fresh wind! Nourishing and toning, it smells of mint and eucalyptus. It eliminates toxins and impurities. It is also enriched with white clay, known to soothe irritations.
And as well as being a punchy soap, it is a work of art in itself. Its marbling is magical and unique!


Cold saponified. 8% greased.
Hand-cut. Weight : 90 g
Biodegradable.

 




Ingredients: Olive oil, coconut oil, shea butter, castor oil, peppermint oil, eucalyptus oil, activated charcoal and white clay.

The use of a product based on essential oils is not recommended for pregnant women and children under the age of 3.

 

A little advice for use

    After use, put your soap in a dry place on a soap dish. This will extend its life.

 


Olive oil is emollient, rich in vitamin E and polyphenols. It protects and nourishes the skin.

Coconut oil is very nourishing. Thanks to this, it considerably reduces the dehydration of the skin. Soothing and gentle, it calms skin prone to redness. It contains lauric acid as well as vitamins A and E with antioxidant properties.

Shea butter is very rich in unsaponifiables and vitamins. It protects, softens and restructures damaged skin. It moisturises and nourishes the skin in depth.

Castor oil softens the skin, making it more elastic and smooth. It also provides softness and a creamy lather.

Peppermint essential oil is toning and stimulating. It brings freshness and purifying and astringent properties. It invigorates and refreshes body and mind. As a cooling agent, it can also be used to relieve itching.

Eucalyptus essential oil is refreshing and known for its multiple virtues on the respiratory system.

Activated charcoal is a powerful detoxifier. It helps capture pollutants and toxins that accumulate on the skin: environmental pollutants, chemical residues from cosmetic products, but also toxins excreted by the skin. Purifying, it cleanses the skin and adsorbs the bacteria responsible for certain infections.

White clay is repairing and very soft, but also purifying and cleansing for dry and delicate skin.






Data sheet
Skin type

Normal and mixed
Problematic
Sensitive

With essential oils

Yes

Line

The refined

Scrub soap

No
13 other products in the same category:
No customer reviews for the moment.
Customers who bought this product also bought: